Once the Classic UGG Boot was introduced to the world, it stuck in the minds of all different kinds of people as an iconic, blanket-by-the-fire warm shoe. Originating in 1978, UGG evolved from surf-wear to luxe-casual wear worn by everyone from y2k reality stars to your middle school best friend. Most recently, they've collaborated with visionary artists and designers to bring their brand to the next level. Learn more below about UGG's rebrand and how to style UGG boots, slippers, and handbags to complete your winter outfits. 🤍
UGG's History
Before becoming a major staple across high fashion and everyday wear, UGGs were the best kept secret across surf culture in Cali. In 1978, the brand originated with the vision of Brian Smith, a surfer who moved from Australia to SoCal¹. They were created as warm shoes to put on right after surfing in cold waters, but the practice of creating boots from sheepskin dates all the way back to rural 1920s Australia². It's no wonder that after all these years, comfort is still key for UGG.
UGG in the 2000s
UGG evolved from strictly surf-wear to a pop culture force when celebrities such as Pamela Anderson, Kate Moss, and Beyonce started casually wearing them². For Millennials especially, UGGs were all the rage, so much so that I remember having an 8th grade teacher who had a collection of 60 different pairs! Not only were there endless styles and colors, but the materials that UGG uses to craft their items are unmatched in quality.
UGG's Rebrand
From the early 2000s on, UGG carved out a spot in fashion history, but the brand hit a wall as their classic shoes were basically everywhere. Since 2018, UGG has pushed beyond their limits with tons of artsy collaborations. In 2020, designer Telfar Clemens teamed up with UGG to create FEEL YOU, a collaboration with over 30 creatives who combined the two brands' unisex, everyday luxury values. Items from the collection, like the UGG X Telfar Small Reverse Shopper, can now be found on Curtsy!
Style the Staples
Whether you're the queen of minimalism or like to experiment with colors and layers, you can always fit UGGs into the mix. Trending UGG styles like platform boots, ultra-minis, and slippers are so versatile. See how to style them below!
Maxis & Minis
Classic UGG boots are reliable and comfortable, but there's always room for a twist. Experimenting with extreme lengths has been all the rage for clothes and shoes this year. Maxi length pieces are perfect to balance out the unique, unexpected look of UGG ultra minis or platforms, two of the trendiest styles out right now. Whether you wear a cozy but structured maxi coat or a denim maxi skirt with a sporty top (like a half-zip hoodie), long and clean lines will draw attention to your ultra-short (or tall) shoes.
Light Wash Denim
Light wash denim is an absolute classic pairing with UGGs, and it can also give you the chance to play with bright colors more. Try pairing light wash denim jeans (or a skirt) with a simple white top and bright colored UGG slippers or boots (I love the pink ones 💖). You can also add a matching cardigan for more boldness (like Bella Hadid's all-denim look with pink UGG slippers and a matching cardi 💅). The key to adding more texture and layers to this for winter is accessories (that you can thrift on Curtsy 💛)– from chunky scarves, to clean white socks, and pre-academia headbands.
Earth Toned Layers
Shades of brown and green are big this season, and UGG pieces in neutral colors – from boots to handbags – pair perfectly. Keep yourself warm this winter with layered fits in colors inspired by the calmness of nature. To make sure your layers don't get overshadowed by each other, try mixing fabrics like corduroy, suede, sherpa, and denim. Adding in an off-white top or skirt can also create some contrast between similar earthy colors. Treat your UGG 'fit like a canvas with the warmest colors you can think of 🌞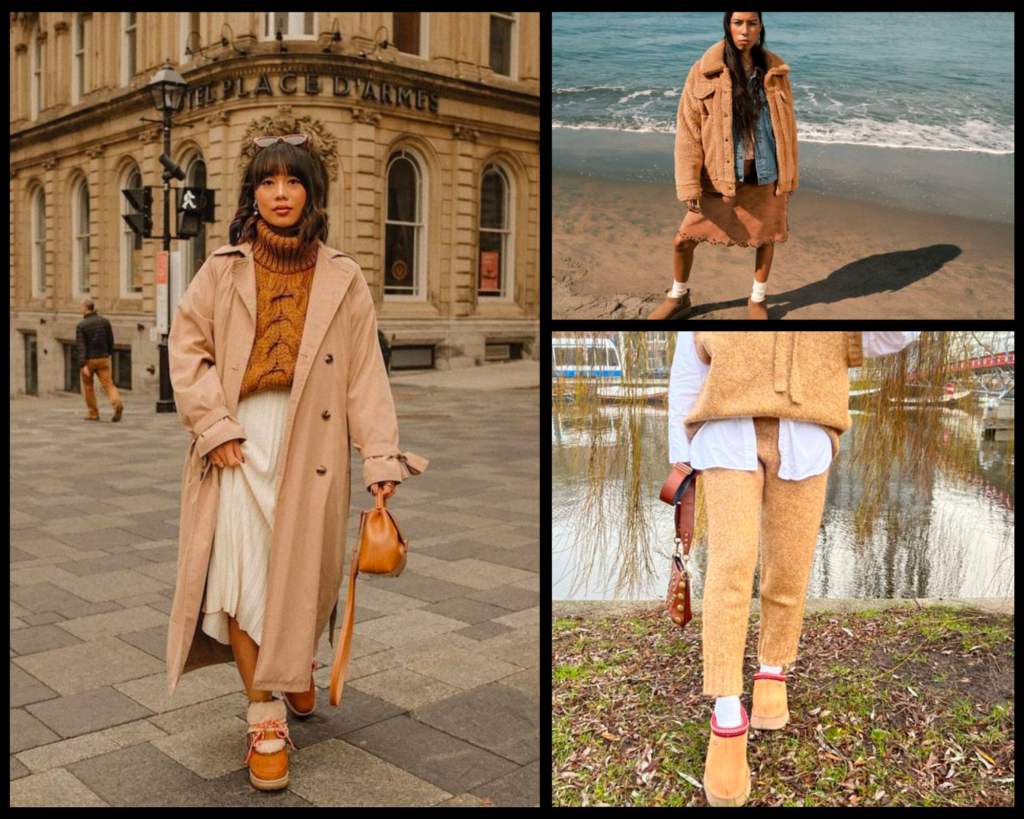 Whether you're searching for your first pair of UGGS or have you worn them for years and want to switch up styles, Curtsy has a ton of options. Can't wait to see the looks you create!
Sources
¹ "Who We Are." UGG, Deckers Brands, https://www.ugg.com/our-story.html. Accessed 25 Nov
2022.

² UGG Express Shop. ​​"The Evolution of Uggs." Ugg Express, 8 July 2019,
https://www.uggexpress.com/blogs/news/the-evolution-of-uggs. Accessed 25 Nov 2022.