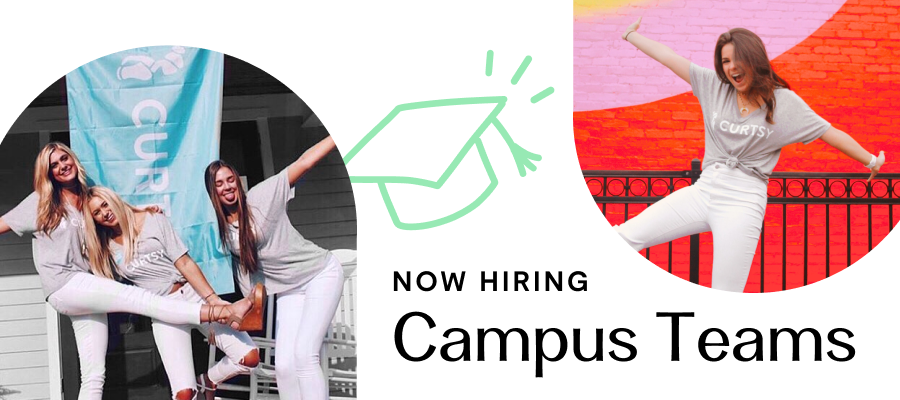 👋🏼 What's Curtsy?
At Curtsy, we've re-imagined how you shop for and sell your clothes. We're working everyday to use our platform to keep fashion out of landfills and give apparel a second life. We're making it easy for you to buy and sell your clothes, shoes, and accessories online and through our app.
At Curtsy we value integrity, boldness, and community. We're dreamers, thinkers, doers, and achievers. We meld old-school tradition with new-school disruption. We want to be THE go-to for sustainable fashion, and it takes bold action, challenging the status quo, and delivering a wow customer experience.
So far we've kept over two million items out of landfills and helped our community earn over $30M through giving their clothes a second life. Together we work hard, we dream big, and we look great doing it.
We started Curtsy in the Tri Delt house Ole Miss. Today we're a small but mighty team with an office in downtown San Francisco. We're still a small startup and are looking for people just as fun and lively to join the team! Read on for more deets! 👇🏼

✨ About Campus Teams
We're looking for two talented marketers at each school to help grow Curtsy and tell our story. As an early member of the team you'll have extraordinary autonomy and ability to contribute to overall growth and marketing strategy. If you have ambitions to join a fast growing start-up and spread the joy and ease of sustainable fashion, we think you'll be a great fit.
If you're passionate, have an entrepreneurial spirit and love making genuine connections: We'll give you the power and resources to hit the ground running and make an impact on your campus.
💃 What You'll Do
We want you to help spread the Curtsy love to your friends and campus.
From partnering with local businesses for giveaways to hands-on marketing campaigns and social media, you'll be involved in everything.
You'll be working directly with me (a Co Founder here at Curtsy) and another student on your campus. We'll have bi-weekly calls to brainstorm fun activities and ways to spread Curtsy to your school.
While your main role will be on-campus marketing, we'll also work closely with you to help us improve the app and brand.

💸 Compensation
As a valued member of our small team, you'll get competitive hourly pay* in addition to $100 Curtsy Credit (monthly) AND 15% off everything on Curtsy 🙂
Depending on your preference, this opportunity might be eligible to count for class credit as an unpaid internship.*

👯‍♀️ About You
You have a spunky spirit with a passion for style. You're bold in your fashion choices and love to make a statement. You walk with confidence and see failure as an opportunity for growth. You live deliberately and intentionally, making the world a better place along the way. You're a team-player, supporting others and growing Curtsy along the way.
You're interested in:
Social media
Marketing
Fashion or resale
Video content
Event planning
📍 Where We're Hiring First
Arizona State University
Auburn University
Florida State University
Louisiana State University
Michigan State University
Ohio State University
Pennsylvania State University
Purdue University
San Diego State University
University of Alabama
University of Arizona
University of Florida
University of Georgia
University of Illinois
University of Maryland
University of Michigan
University of Mississippi
University of South Carolina
University of Tennessee
University of Texas
These are the campuses we're kicking off first! Don't see your school? Fill out the application and choose 'other' when we ask for your university. We'll let you know when we're ready to launch your campus in the future!
❓FAQ
Time commitment: Around 4-5 hours per week, but could be more if you're interested 🙂
Is this paid? Yes! You'll be compensated hourly in addition to getting $100 Curtsy Credit monthly and 15% off everything on the app.
When does this start? This role is for the Spring '22 Semester, but we'd start a week or so before your spring classes begin.
How long does it last? The Spring 22' Semester
When is the deadline to apply? Application Deadline: Acceptance is rolling, applying earlier is better
When will I know if I'm chosen? We'll send out acceptance emails shortly after the application deadline
Where do I find my Curtsy Closet Link to include in my application? Go to your profile on the app, tap share at the top & tap copy link
How many ambassadors are you hiring? We're hoping to hire 2 awesome students at 20 different universities
Do I need to be a university student? Yes, we're currently hiring at universities, but are hoping to expand our program soon 🙂