Don't you love the feeling of giving your clothes new life? And of course, earning some extra cash ain't bad either. Selling on Curtsy is easy and you don't have to be a pro to get that bread. But, it doesn't hurt to see how the pros do it. 
Whether you're just getting started or looking to glow up your Curtsy earnings – we've got a tip for you. Scroll along bestie to learn a thing or two from the pros about selling on Curtsy.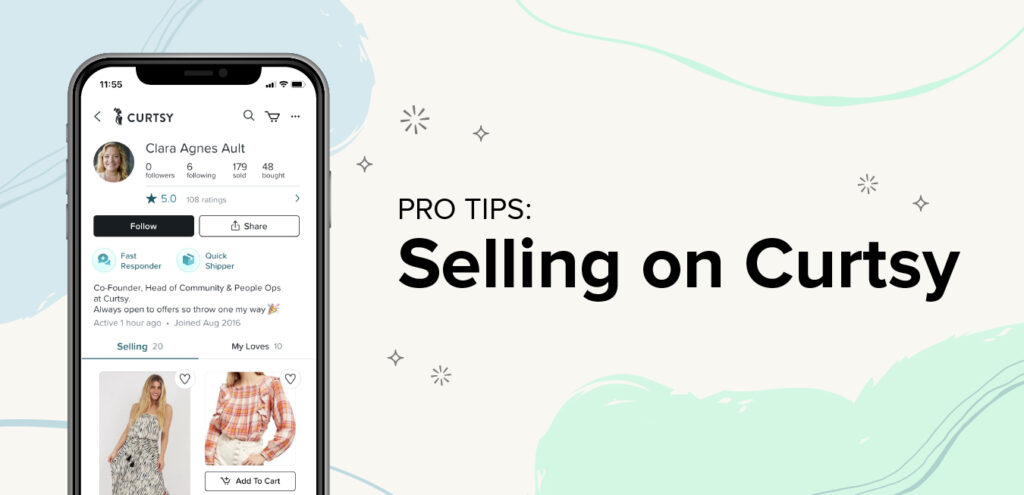 PHOTO TIPS
✔️ Tip #1: ✨Get lit✨ Great lighting helps your items stand out. Try snapping your photos near a window or lamp. 
✔️ Tip #2: *It's all in the details* Snap your item from all sides, and go in for a closeup to show off the details of unique patterns or textures.
✔️ Tip #3: Post as many photos of the item as you can, cause on Curtsy there's no such thing as TMI. Try to include at least one photo of the item IRL, a stock photo from the brand, and a closeup. 
WHAT TO LIST TIPS
✔️ Tip #1: 😍 Lululemon, Nike, Princess Polly, Free People, American Eagle, and Brandy Melville are just a few brands that are hot rn on Curtsy. 
✔️ Tip #2: BUT Curtsy Babes love discovering fresh brands and styles, so list what you love and we'll love it too! 😍
✔️ Tip #3: Have an item in your closet perfect for the current szn? Keep the weather in mind and what trends shoppers are coveting. Follow us on social for major trend inspo.
HOW TO PRICE TIPS
✔️ Tip #1: Don't stress about the price being right. We got you! When you list, we'll always show you a suggested listing price based on what similar items have sold for. Afraid of commitment? No pressure, you can always edit your price after posting.
✔️ Tip #2: Offering free shipping helps make your goods irresistible to shoppers
BOOST YOUR LISTING TIPS
✔️ Tip #1: If you want fresh eyes on your listing
try dropping the price a few bucks or making private offers using the Promote button.
✔️ Tip #2: Maybe your photos could use a refresh! Add some snaps from different angles, a fully styled fit, or a stock photo of the item. Photo ideas: Share your style by using old IG photos of you in the item, plus flat lays or mirror shots are always
.
WANT MORE TIPS?
Check us out on YouTube for more selling tips and fashion inspo.
---
💗 Can't get enough of Curtsy? Follow us for more:
https://www.instagram.com/curtsy/
https://www.facebook.com/curtsyapp/
https://twitter.com/curtsy
https://www.tiktok.com/@curtsyapp
https://www.linkedin.com/company/curtsy/
https://youtube.com/Curtsy