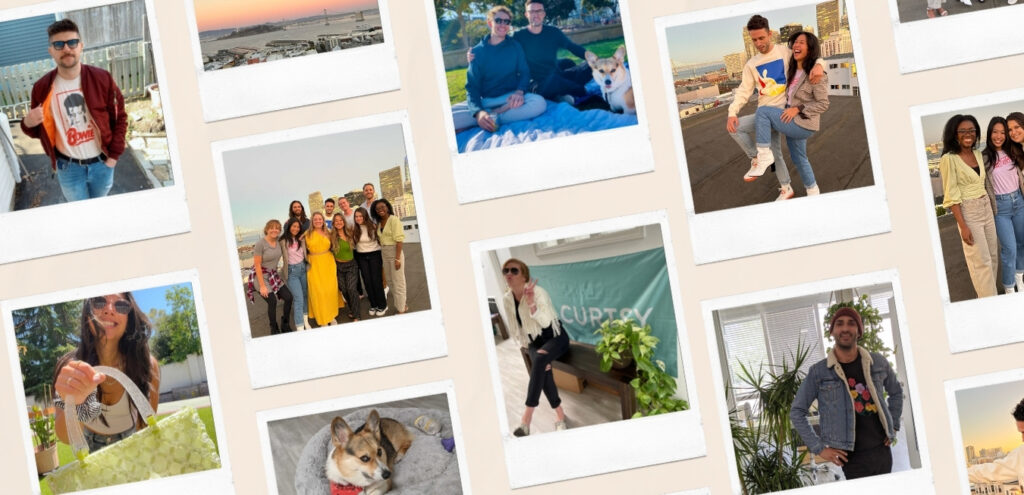 Greetings from Curtsy HQ! If you're reading this, you already know what we are, but do you know who we are? We recently took a stab at answering this question. We thought about each Curtsy team member and the characteristics that make each person great. What the discussion sparked is this list of traits (some might even call them quirks) that summarize our values and inform everything from our interview questions to our customer service.
TL;DR: We're a passionate team of optimists and strategic thinkers, with open minds and hearts, who don't take ourselves too seriously.
Our Values
Persistence
High-level thinking
Going above and beyond
Optimism
Taking responsibility
Teamwork
Fun
Persistence
We bust through walls to achieve our goals (or find a way around the wall, make friends with the wall, or figure out why the wall doesn't matter).
We solve issues as they arise and course correct when necessary, but we never give up or go home early.
We understand that setbacks are part of the learning process.
High-level thinking
We focus on getting it right (strategy) and getting it done (execution). Both are equally important.
We carve out time to research, think, ideate, and get aligned on the strategy before diving in. A few hours of strategic planning can save us weeks of wasted effort.
Along the way, we regularly zoom out to ensure that we're still headed in the right direction.
Going above and beyond
Going the extra mile for customers is our normal route. We don't tolerate mediocrity, and continually work to improve our customers' experience.
We're looking for "wow" reactions; delight is our goal. We consider a working app, with helpful and responsive customer service, the bare minimum.
We move quickly to squash issues and bugs that come up to minimize customer impact.
Optimism
We're motivated by hope for a better future and our ability to bring it to life. The world around us was created by normal people just like us.
We try to look with clear eyes at the reasons why ideas will work rather than fail, taking care to avoid blind optimism. After information-seeking and discussion, we rely on our intuition to guide us.
We have a can-do attitude. If we don't know something, we believe in our ability to figure it out.
We're growth mindset people.
Taking responsibility
We recognize that no person or company is perfect. To err is human, and companies are human endeavors. When we miss the mark, we will take full responsibility without making excuses.
We don't blame others for our mistakes.
We're all part owners in Curtsy, so we act according to its best interests.
We do what we say we're going to do.
Teamwork
We put aside our egos in the service of the greater goal.
We avoid zero-sum thinking, and competitive or political behavior towards others on our team.
We're motivated by helping others and see others' success as our own success.
We're focused on building strong relationships with others on the team, and tackle conflict head on rather than sweeping it under the rug.
We're aware of the impact that our actions have on others.
We assume positive intent in others' actions.
Fun
We spend most of our waking hours at work, so we try to make it fun and laugh a little. 
We try not to take ourselves too seriously. 
Success is a function of skill, effort, and luck. We bring our best selves to every task, but we don't stress over what we can't control.  
---
💗 Want more behind-the-scenes of Team Curtsy?
Follow Us: https://www.linkedin.com/company/curtsy/
Careers: https://jobs.lever.co/curtsy