Alright everyone, I'm back.
After quite the ~dramatic~ episode last night, it's safe to say that the entire country and beyond is mad at Arie Luyendyk Jr.
Poor Becca got her heart broken on national television and everyone's mad, including me. So of course tonight, they're going to show Arie crawling back to Lauren and then sit them all on the same couch together to talk. Let's see how this goes.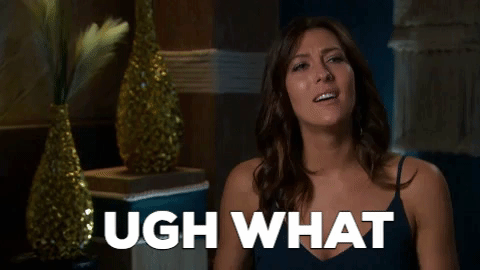 Ah yes a recap, so glad we get to see this painful event again
Gahhhhh poor Becca the whole country's heart aches for you girly
Does Arie have any feelings??? ~confused~
Becca gets her heart broken and they send her home on a plane in COACH???? Homegirl deserves first class after that
Arie's having a panic attack because he left one girl broken hearted to chase after another and is afraid she won't take him back….
Producer: "Do you love him"….. yikes
LAUREN DIDN'T EVEN HAVE QUESTIONS SHE JUST JUMPED INTO HIS ARMS??
Ohhh he already told her they broke up
He was only with Becca for a month and a half?!?!?!?!?!!
Is Arie wearing makeup?
Please say no Lauren please say no
He's already 1000% over Becca wow

AND SHE FORGIVES HIM

I'm over this show
Homegirl is wasting NO time asking for that ring
Bekah is all of America right now
PREACH TIA                                  
This girls are making me feel even worse for Becca and I didn't even know that was possible
Are they hinting at Becca being the next Bachelorette?
**Chris cuts them off** rude
Let's just recap this episode ONE more time
Becca is just too nice for her own good ugh
Girl is donating her wine money, truly an inspiration
"Do you want to see him" no
Wow I would not be okay
Did Arie just blame Becca for working?
Huh?
I'm getting lost in this conversation, anyone else?
Hahahahaha she said she's ready to move on right in front of him
She's such a good person
YIKES
He's blaming the Bachelor for proposing… ok
I've eaten like 14 oreos
If he says he put as much effort as he could he is l y i n g

SHE FORGIVES HIM WOW                                   

Molly and Jason are adorable
Does anyone remember these magazine articles about Jason and Molly???
"He is a nice person" lies
This is the only thing that has 100% success rate on The Bachelor tbh
Ahhh yes Arie's back
Bekah's face when Lauren walked out is me
They're never going to be a "normal" couple
HE SLID INTO HER DMS hahahahahahahaha
Lauren's talked more tonight than she did the entire season
"What do you want to say to the haters" my favorite quote this season
I still don't get how Arie has gray hair
"It was worth breaking everyone's heart to end up where I am today" ok
WOW he's going to propose
I WONDER WHO THE NEW BACHELORETTE IS
JK we all saw that coming lolol
What was that curtsy thing??
Love her she deserves this
We're gonna start this right now too??
They did this on Rachel's season
Alright here we go, let's see who they got for Becca
HAHAHA loyalty and honesty taking shots at Arie
Lincoln, so daper
HE'S GOT AN ACCENT HOW CUTE
what.a.nooooooodle!!!!
Chase, has a hard act to follow
What's happening with his hair?
Omg a guitar
OH NO A BANJO
HOW CUTE
HE'S SOOO CUTE

Ryan, I am obsessed

Oh okay Darius looked at her like she was a snack, pass
I wonder what Arie's thinking watching all this?? Is he watching this??
A HORSE??????
Blake, what a CUTIE
He's getting her "Back on the horse" I am crying
Well, we'll see you all back here when Becca's ~most dramatic season ever~ airs on May 28th