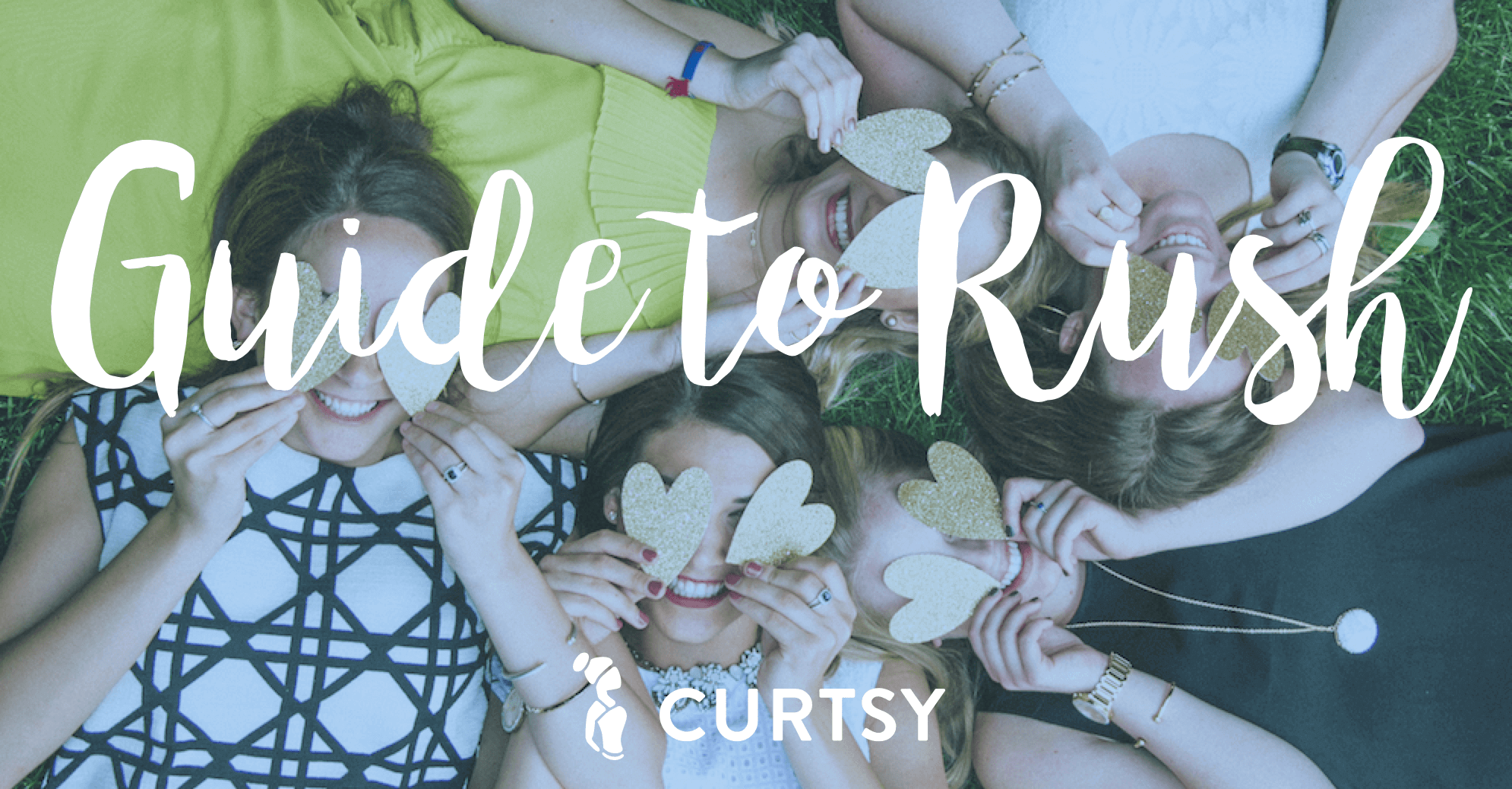 The days are long.  The sleep is short. Is Greek Life even #WorthIt?
Have you heard of Curtsy? We're launching at your school soon.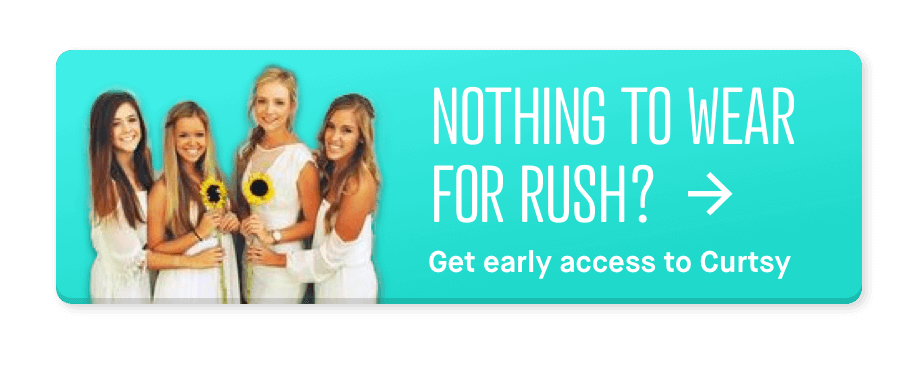 ---
Keep your eye on the light at the end of the tunnel.
For those of you who still feel uncertain about rush, I was fortunate enough to hear other girls' experiences and they all have one thing in common— baby it's #WorthIt.
Caroline Loveless (far right), a former Chi O at Ole Miss had a special memory when her actual sister, Lucy Miller Loveless came running to her arms on bid day.
To see the joy in Lucy Miller's smile and the pride in my mom's eyes was an irreplaceable experience.  While we all have our different personalities and quirks, it's pretty magical that we all chose the values of the same sorority.  It's been fun to compare our own experiences in Chi O— they're so similar, yet so unique.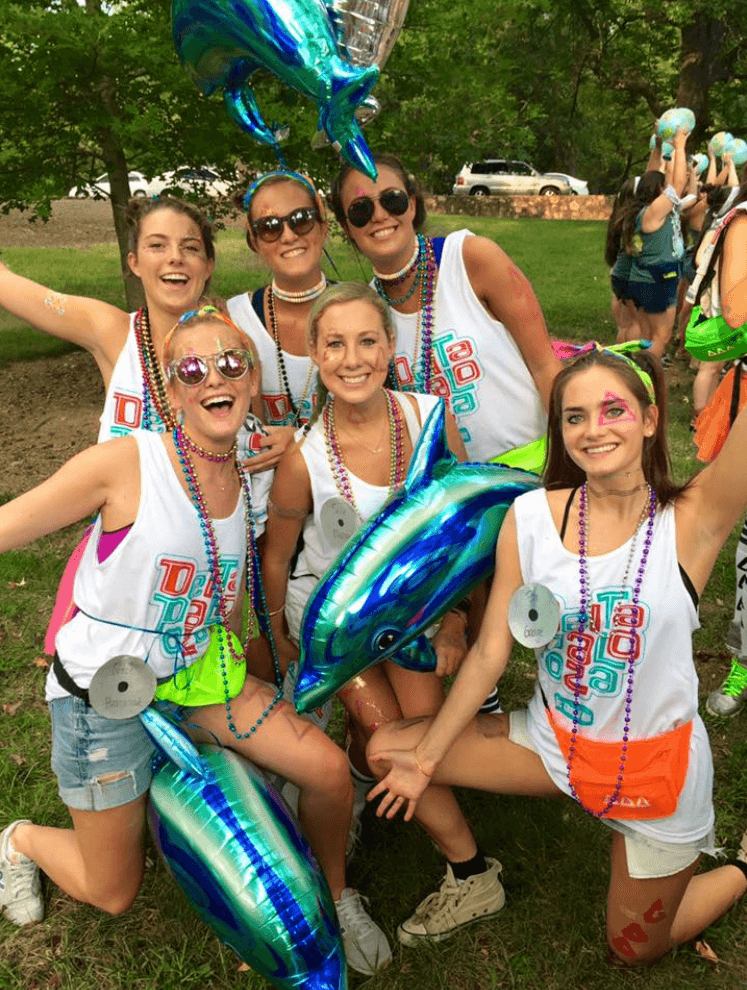 Grace Hammond (bottom left), a Tri Delt at Chapel Hill, sent in this funny story from her rush:
The first day of rush was a total monsoon.  Thinking I would be prepared while still remaining fashionable, I wore my mother's vintage yellow raincoat for the rounds. Turns out, the "raincoat" didn't actually protect me from the rain.  I went through each round that day looking like a wet puppy.  I'll never forget that day.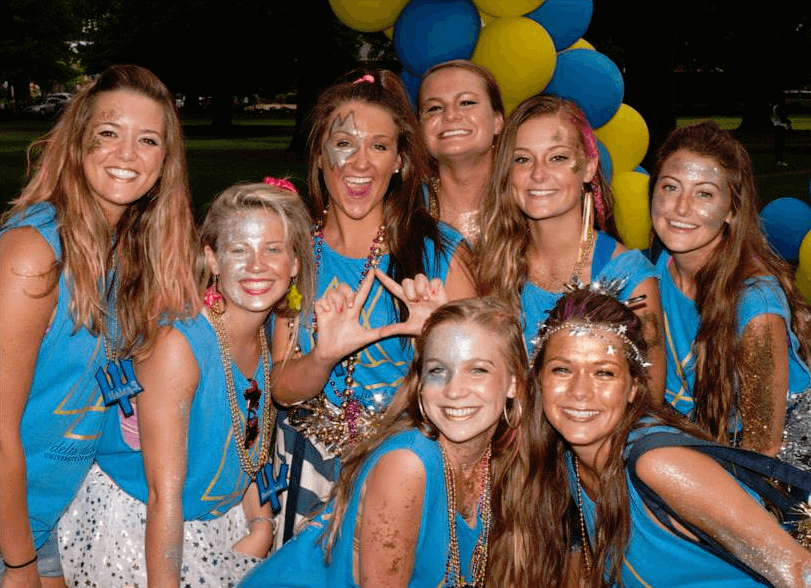 One of Anna Kate Smith's (bottom right) favorite memories was Tri Delt bid day at the University of South Carolina.
My favorite rush memory is definitely bid day my sophomore year.  Our theme was Kesha "Crazy Beautiful Life," so my friends and I covered ourselves in glitter and played Kesha songs all day.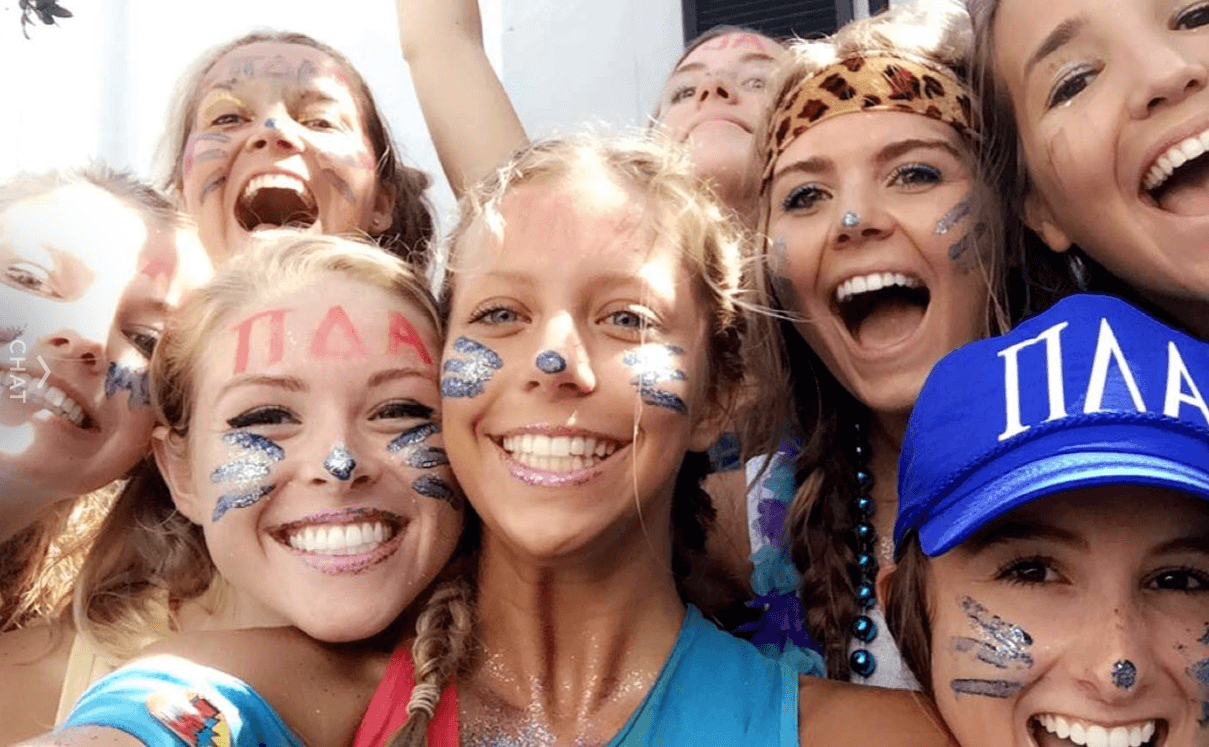 Ally Taylor (wearing the leopard headband), an ADPi at the University of Georgia, reflects on her rush experience from the other side.
Amongst all the excitement surrounding the incoming girls, our chapter managed to have some fun of our own during a surprise hip hop class at the ADPi house.  The whole chapter dropped it low and body rolled. My stomach hurt after laughing so hard at my friend Ana Harbin, as she tried to compete with our very own Dance Dawg, Hallie Hale!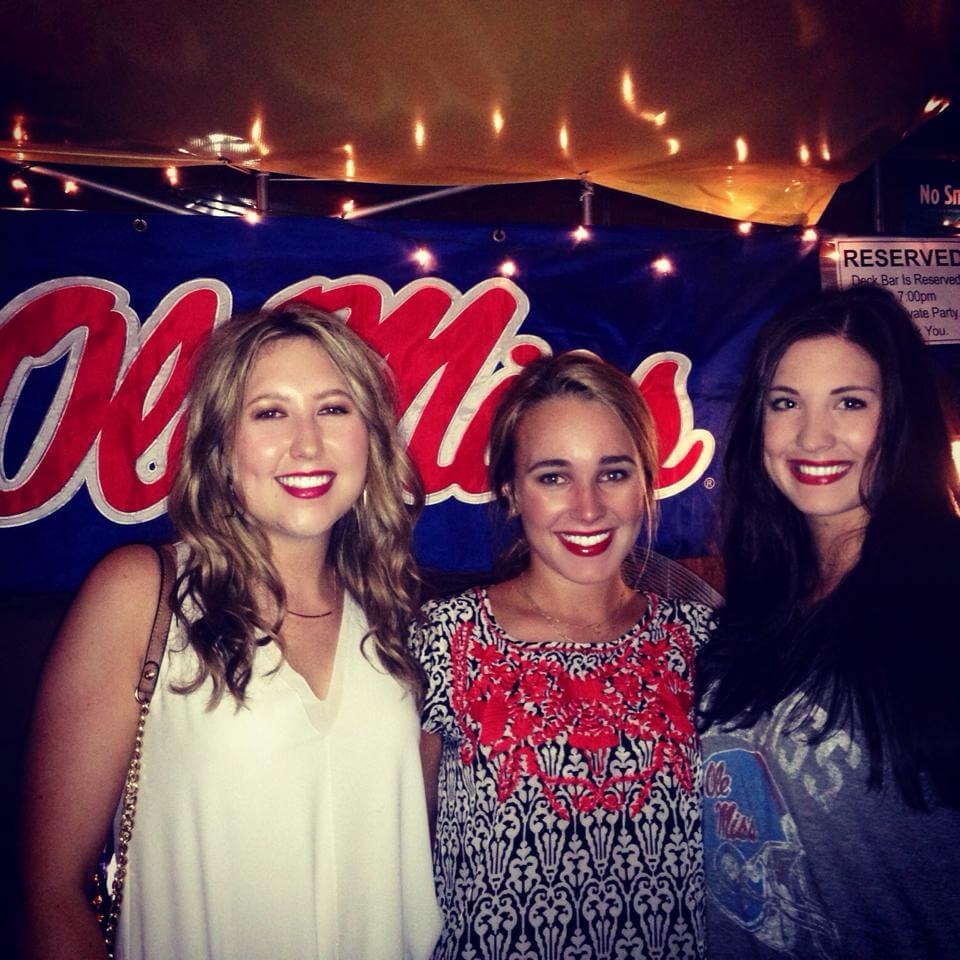 Sallie Barrow Fisher (far left), a Tri Delt from Ole Miss, explains how you can be friends with everyone, not just the girls in her sorority.
My childhood best friend and I ended up going different sororities.  Alli was a Kappa, and I was a Tri Delt.  When we interned in NYC one summer, we met another girl from Ole Miss who was a KD, Katherine.  The three of us instantly clicked, and although none of us were in the same house, our friendship turned into a sisterhood.  It goes to show you that no matter which sorority you pledge, you can still have best friends everywhere.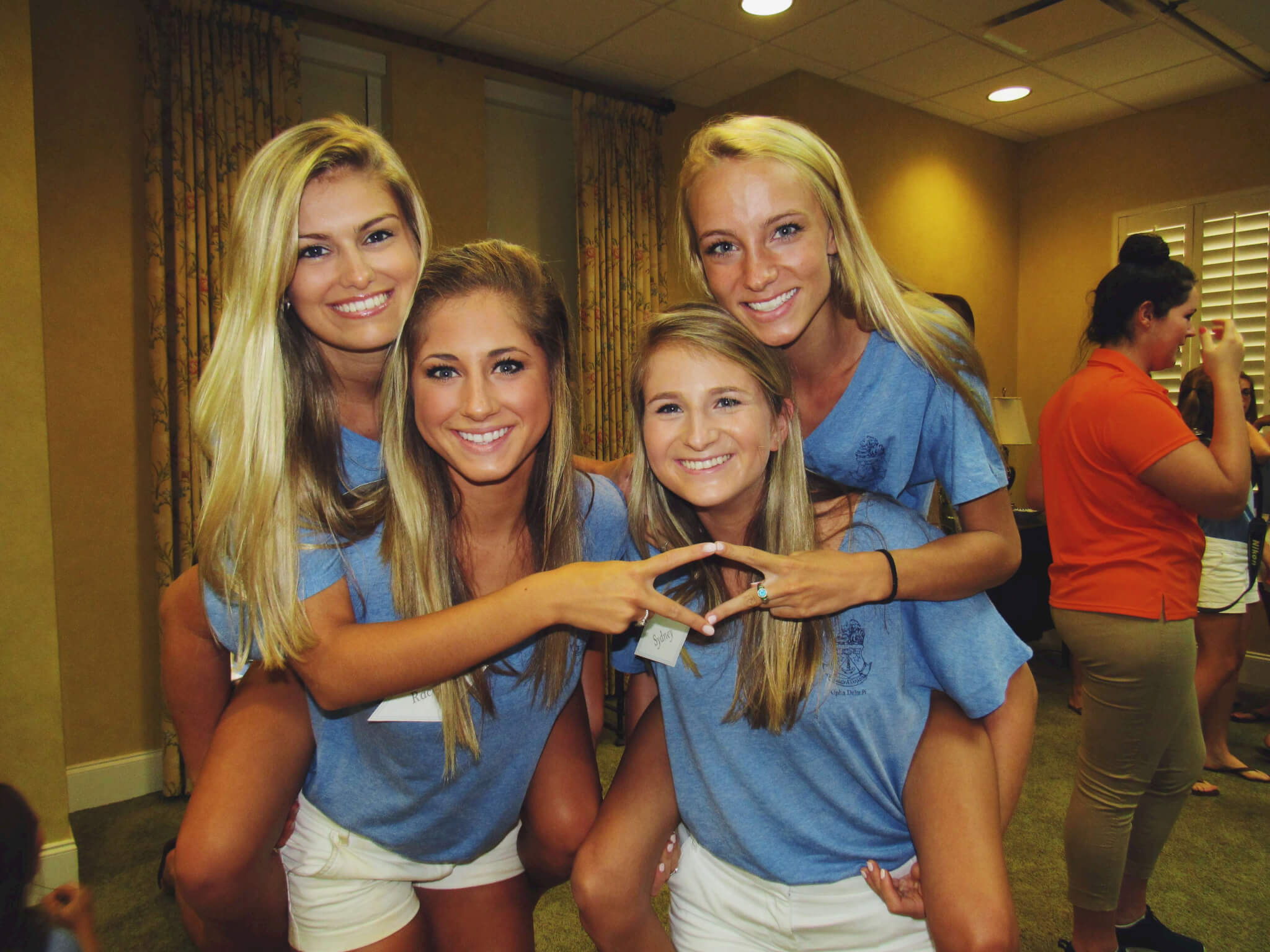 Annie Rounsaville (pictured top left), an Alpha Delta Pi at Auburn loves being on the other side.
Rush week is so fun because you get to be back with all of your sisters after summer break.  My love for ADPi has gotten so much stronger, and I've been able to get to know so many girls in my sorority I didn't before.  Everyone get's pumped before the PNMs walk in, and we're eager to meet our new pledge class!"
Keeleigh O'Neal, a recent Ole Miss graduate, was the skit chairman for Tri Delt rush and made the sickest skit anyone had ever seen.  Tricia Miranda can't even compete with this choreography.
Skit was what made me fall in love with Tri Delt when going through rush.  When I was elected skit chair, I was over the moon! I put my heart and soul into every piece of it because I didn't want something the girls would just watch—  I wanted to create something that everyone in our house was proud to be a part of.  I wanted to make a skit that brought everyone together and by doing that, I knew it would be the best it could possibly be.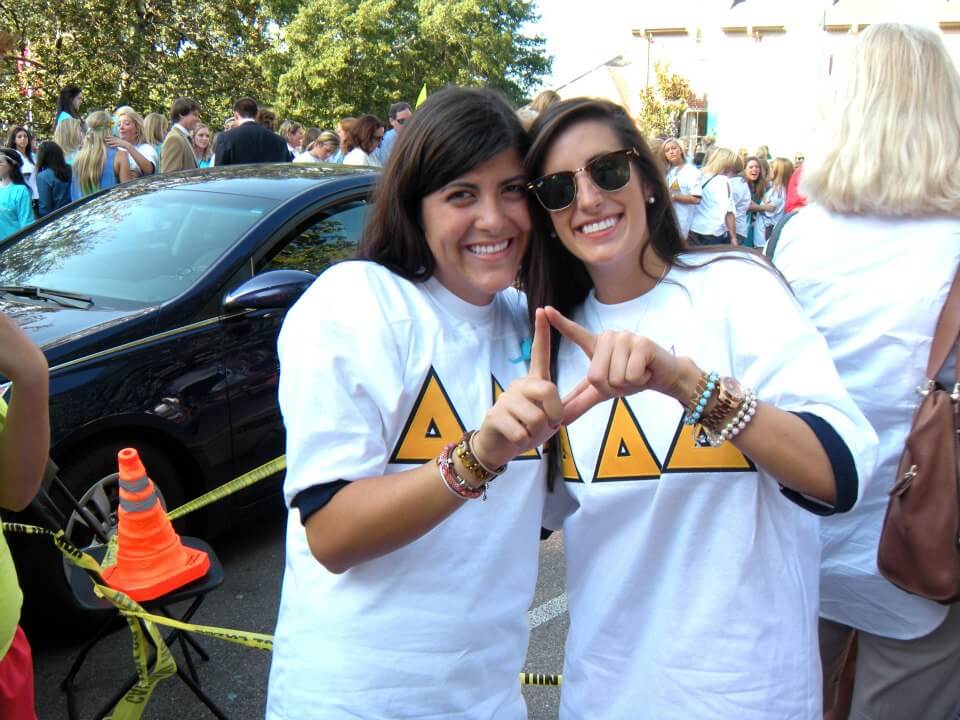 A few days ago I went through my pictures from freshman year bid day and came across this gem.  On September 23, 2012, Sara "Kip" was just a new friend I met.  Today, she's much more than that.  Over the past four years, Kip and I shared several memories that will never be forgotten. We've cried on each other's shoulder, stayed out until the sun rose, cheered each other on during jubilant times, and explored new cities all over the world. I had no idea that pledging Tri Delt would bring about this and more.  I would have never guessed that four years from our freshman year bid day, I would be working for the company where she is a founder. (Thanks, Kippy & Tri Delt!)
xoxo, Team Curtsy
---
What is Curtsy?
P.S. Rent dresses from women at your school with Curtsy! Browse, rent and post dresses of your own to make extra CA$H.