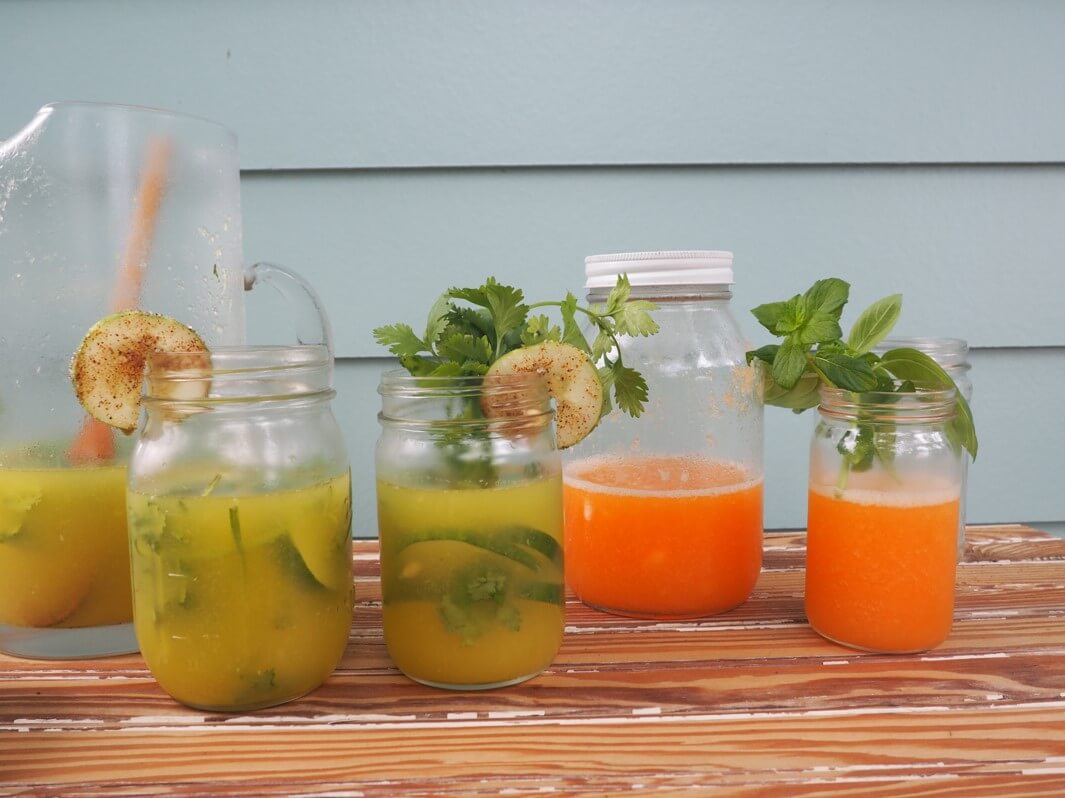 Leslie Johns Ray from the Little Green Apron tells us how to throw the ultimate summer cocktail party. Her best advice, "Throw on a dress, blend a cocktail, and invite some friends." Check out her recipes for the yummiest cocktails and appetizers.
Need a dress for the party? Download Curtsy!

 The Cantaloupe Curtsy Cocktail
Now that you have a fun dress for a summer cocktail party, hit the farmers market for the cocktails and appetizers.  Turn your cantaloupe into a Cantaloupe Curtsy by scooping out the cantaloupe flesh, blending with tequila, and garnishing with a sprig of mint.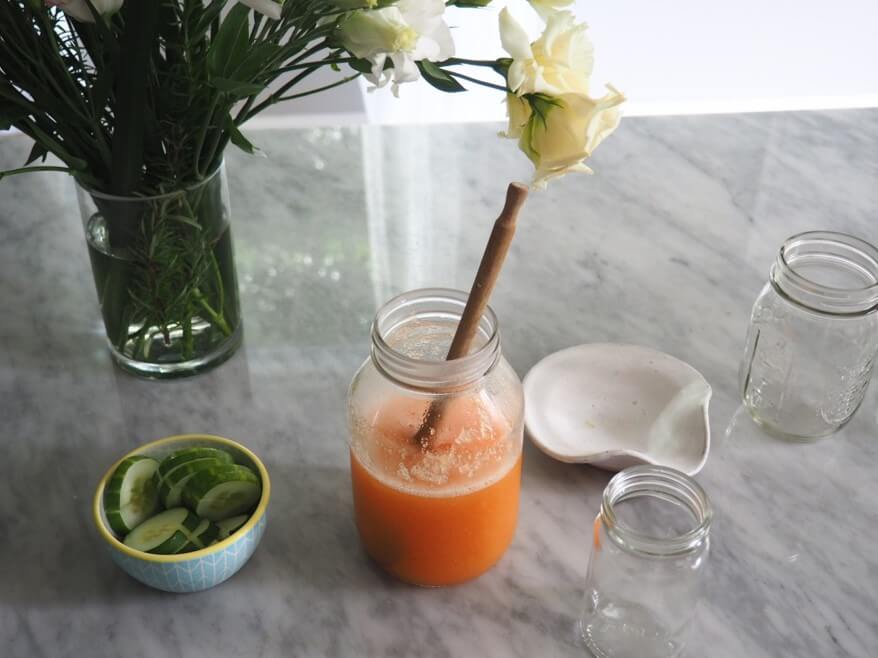 Cantaloupe Curtsy
serves 2-4
Ingredients:
1 small to medium cantaloupe, enough for 2 cups of puree
1/2 cup tequilla
mint
Instructions:
Puree the cantaloupe, add the tequila and puree again. Serve over ice with mint garnish.
---
The Why Buy? Watermelon Cocktail
If you're feeling adventurous, use that unexpected neon yellow watermelon for a Why Buy? Watermelon Cocktail.  You won't need the whole watermelon to get a big pitcher, so slice the other half of the watermelon to serve on a platter with blueberries.

Why Buy? Watermelon Cocktail
serves 6-8
Ingredients:
5-6 cups watermelon puree
1 1/4 cup vodka
1 lime
1 cucumber, sliced
1 bunch cilantro
salt
dried, ground chipotle pepper
Instructions:
Puree watermelon in blender, add vodka and lime juice from lime and puree to combine. In a pitcher, muddle about 6 slices of cucumber and a handful of cilantro, then pour in the watermelon and vodka blend.  Chill. To serve, dip the rim of the glass in a bit of lime juice and dip the rim in a plate with a layer of salt and chipotle pepper. Or, dip the cucumber garnish in the salt and pepper mix.  Pour in drink, and garnish with a cucumber slice and cilantro.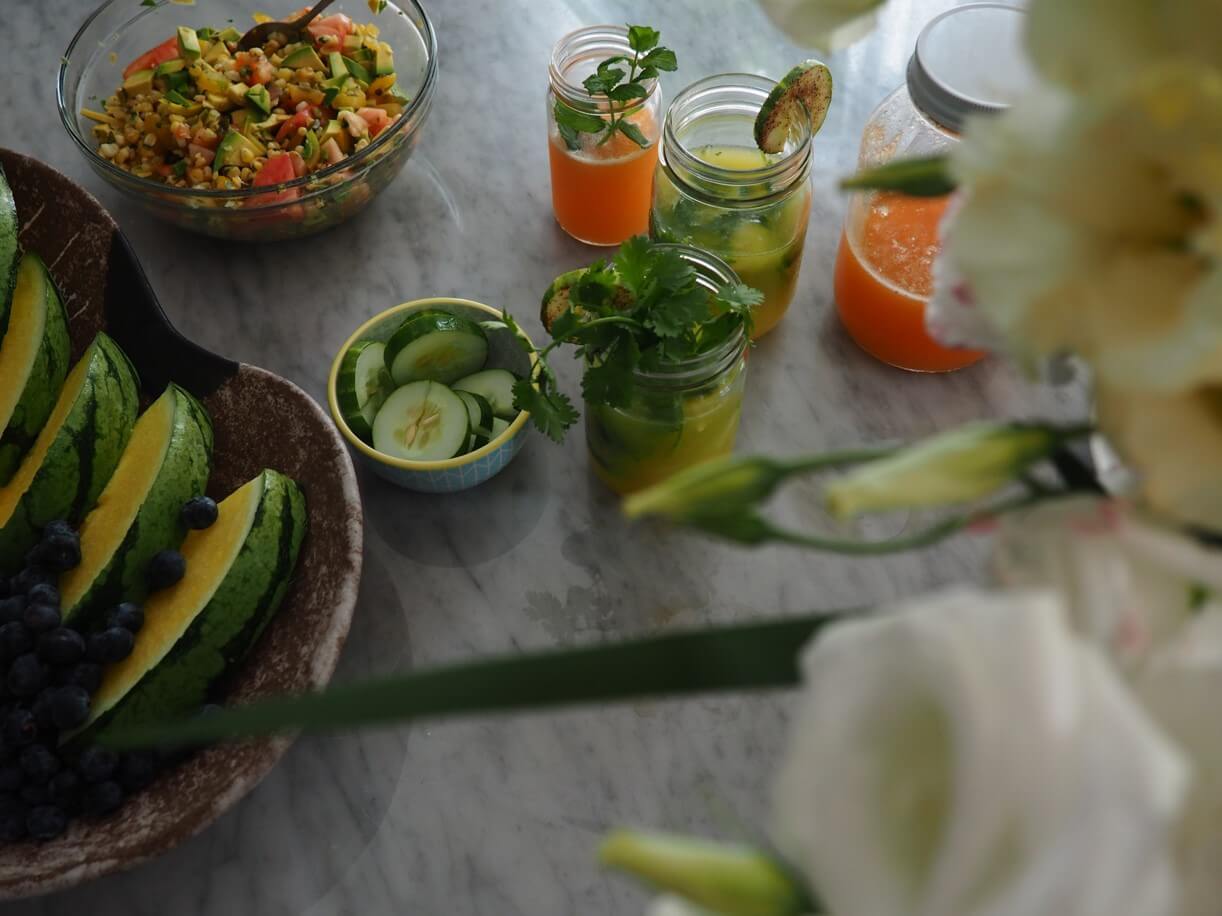 ---
The Food
My market finds inspired the other appetizer for this summer shindig: corn, poblano peppers, and tomatoes. Add a bouquet of fresh flowers from the market or your garden, put on a record, and start the party.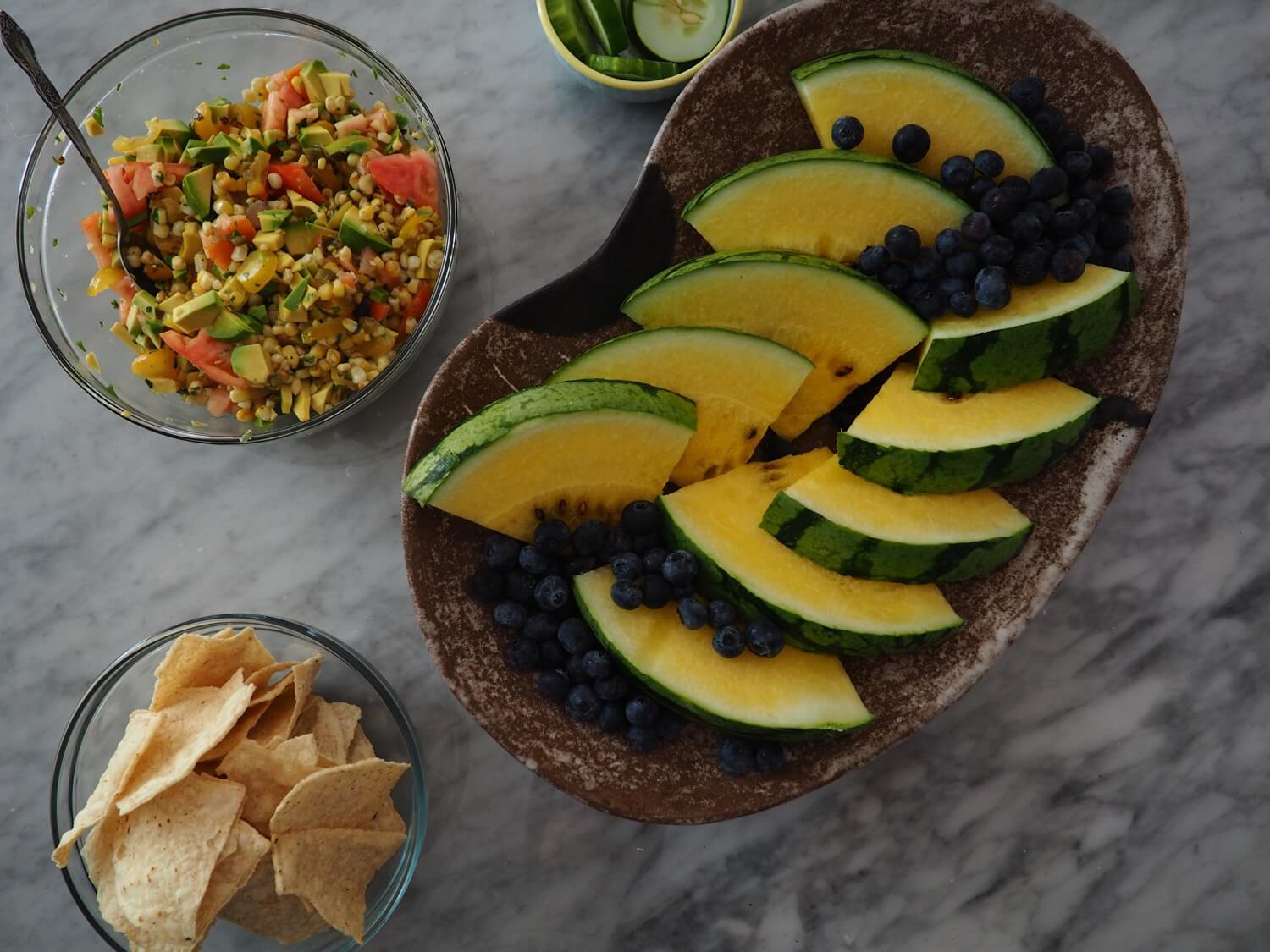 Charred Corn and Poblano Salsa
Ingredients:
3 ears corn
1 poblano pepper
1 avocado, cubed
2 pints cherry tomatoes, sliced
1-2 tablespoons cilantro, chopped
1 tablespoon olive oil
1 teaspoon red wine vinegar
salt
Instructions:
Char the corn and poblano pepper on the grill or under the broiler.  Cook until the corn is browning and the pepper is blistered all over.  Cut off the corn kernels once cool enough.  Peel off the outer skin of the pepper, remove the seeds, and dice.
While the corn and pepper are charring, prepare the other ingredients in a medium bowl.  Cut and add the avocado just before serving so that it doesn't brown.  Once cool, add the corn and poblano and toss to combine.  Serve with tortilla chips.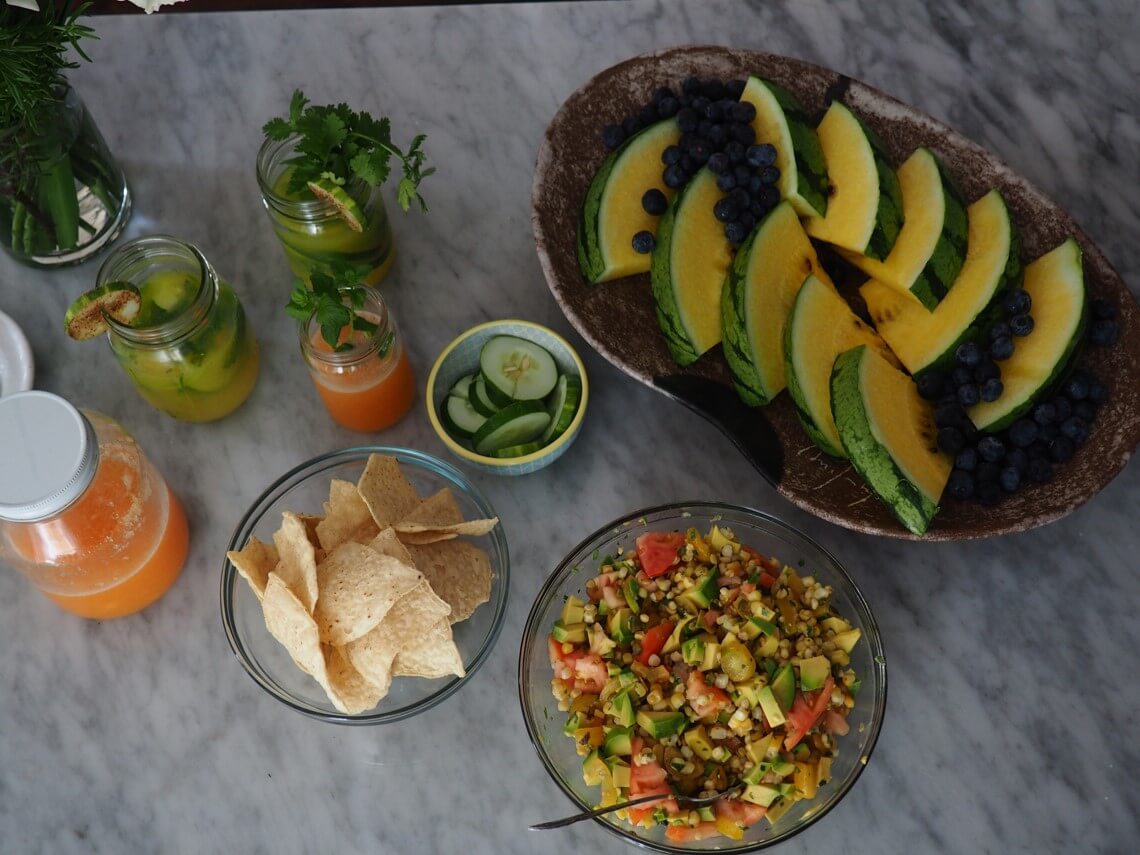 ---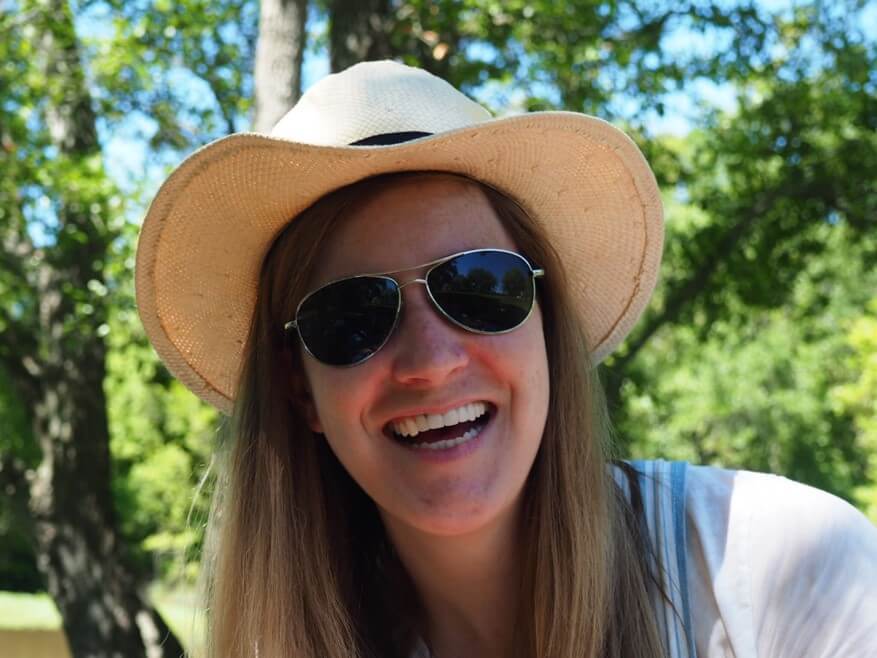 Leslie Johns is an eclectic New Orleans lawyer and food lover. She's been cooking ever since her grandmother gave her a little green apron. A native of Mississippi, Leslie Johns now uses the same skillets and wooden spoons in her Louisiana kitchen. Her recipes are based on using what's close and fresh: whether it's the seasonal vegetables from the local farmer's market, the dregs from the refrigerator, or the stretching of one ingredient into a week's worth of lunches.
Waking up Saturday morning, tying on an apron, and creating something out of a pile of ingredients excites me as much now as it did when my grandmother tied on my first little green apron.