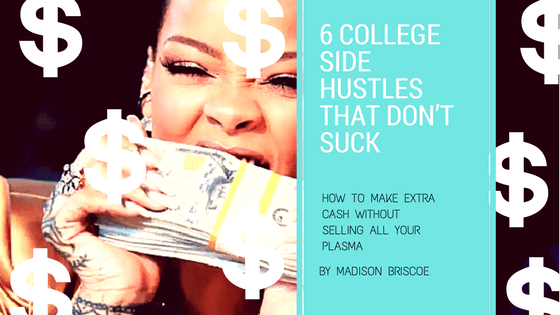 Being broke in college is a given right? It's hard to not have serious fomo when scrolling through your friends highlights on Instagram or crave something other than ramen for dinner: Thus the introduction of a side hustle. Here are six ways for you to have some side money without losing your social life or sanity. 
Resume Chic –Are you the girl who has her LinkedIn already set up? Have you peered into the real world and realized that a good resume takes you places? Create your go-to template for the people in your life that need some help, and charge a nice lil fee for your services.
Craft on Etsy.com—Always on Pinterest looking at a DIY? Why not open a shop on Etsy and sell your creations to the world. From calligraphy, jewelry making, and embroidery there's plenty of ways to make your crafting time lucrative. You can even upload the resume templates mentioned earlier! Get that schmoney girllll.
Become an Uber/ Lyft Driver – This one's for the night owls or the people that live out of their cars. Uber makes signing up SO easy. Plus, major perk: you get to decide your own hours! BEEP BEEP – CASH COMING THROUGH. Pro Tip: Make sure to keep water bottles on hand to keep that 5 star rating.
Participate in a Research Study on Campus– We have all seen the flyers around our college campuses asking if want to participate in a study. Well you can only do this once, honey- in college. These research groups are always working on something new, so being apart of research studies is a EASY way to earn some extra cash (sometimes around the $100 dollar range). Cha chingggggg!
Fill out Online Surveys – For the countless hours binge watching Netflix while simultaneously browsing the web.  Instead of browsing, you could spend your time filling out online surveys. Sites will literally pay you to fill them out. Makin' this money move is simple. You just register and the companies will contact you when they have a survey that fits your aesthetic, okurr.
CURTSY APP – OF COURSE HONEY THE EASIEST WAY TO MAKE SOME CASH CURTSY. Want to make money without selling your entire wardrobe? Welcome to curtsy – an app that lets you rent out your clothes to girls nearby and rent from them as well. Not only do you make money off the clothes in your closet already you get a new giant closet for way less the normal cost. Now that's a win-win. Stay stylish and get ya money girl.